The 3Rs project
This CLIL unit is appropriate for learners from the third grade. The problem of waste disposal is seen from a social, environmental and scientific perspective. Reduce, Reuse, Recycle are the 3 Rs  in a unit where literacy, together with lots of involving practical experiences and observations will build up knowledge of the content and communication.
Autore: Elisabetta Aramoni, Elena Garti
Materia: Scienze
Classe: Terza
                                  Scuola: Istituto Comprensivo Carminati - Lonate Pozzolo (VA)
Drawing with Paul Klee
In this CLIL unit, suitable for young learners from second grade, pupils will analyze Paul Klee's painting, identify colours and shapes, lines and patterns and organize them in creative compositions. Art, history, geometry and geography are the subjects involved in a unit where communication is enhanced at every step and simple, but effective practical activities will make the learning a very joyful journey.
       Autore: Prof. sse  Anzini Carlotta, Colombo Francesca
       Materia: Arte
       Classe: Seconda
       Scuola: Istituto Comprensivo G.A. Bossi - Busto Arsizio (VA)    
Talk for...Italy
This is a CLIL lesson about Italy for a grade 5 class of the Primary School. Italy, our beautiful country, is made up of different landscapes.  The first part of the unit, lessons 1-6, explores its physical features: seas, mountains, rivers, volcanoes, etc.  The second part, lessons 7-9, presents some facts about the country: regions, cities, languages spoken etc.  The title was inspired by the English idiom "talk for England", a sarcastic phrase that means "talking a lot". WE can now start talking…..for Italy.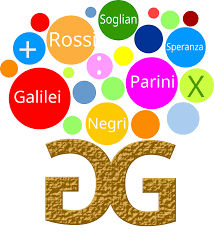 Autore: Prof. ssa Maria Daniela Gambaro
       Materia: Geografia
       Classe: Quinta
       Scuola: Istituto Comprensivo G.Galilei -  Busto Arsizio (VA)